Warning long post is long and image heavy. XD
Sorry I've been quiet lately, hopefully that won't be too long. I've been really sick and I'm sorta feeling better now. ;A;
But in the meantime, enjoy some of the wonderful things I've commissioned both recently and some from the past with me!
Oh-My-Stars
always does the cutest little chibis and I recently got some more from her! Her commissions are closed at the moment but they are well worth the wait!
She's also made these for me in the past:
Also #2 & #7 on this sheet:
sira16inu
is another of my go-to commissionees since she's so nice and always makes such cute pixels! Plus she's made so many wonderful things for me! I mean look at all these cuties. Her commissions are also closed at moment but she's another lovely artist to keep in mind!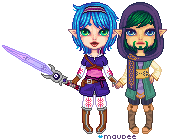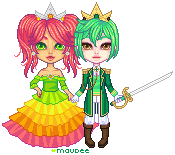 Ideya-Freak
made these for me a while back so I have to include them too! They are so beautiful! Her commissions are open so you should definitely go check her out!

mouldyCat
its another of my favorite people to commission before her cutesy style. She's made so many cuties for me as well. Her commissions are closed and likely because of her super-popular unicat species that keeps her busy! But if you manage to get a spot it is so worth it!
Cathaclysm
had made quite a few pieces for me of my characters! I love them all! Her commissions are closed temporarily but they should be open soon!

SkittleBittle
has also indulged my love of chibis and had made these cuties for me. Her commissions are also closed at the moment but you should totally wait for an opening!

That's it for right now but hopefully I'll be back with more soon! I love collecting art of my lovelies!
If I made any errors in the commission status info please let me know so I can fix them! :3
I hope you enjoyed this as much as I did.